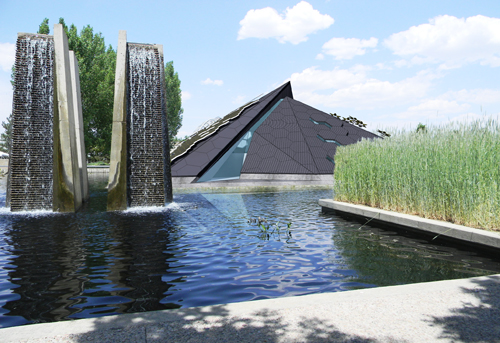 Major transformation will come to the Gardens in spring 2014. The additions are a new outdoor café, a public garden at the Waring House and the Science Pyramid.
The Science Pyramid is the largest endeavor of the new development plan. Anna's Overlook, by the Four Tower fountains, will become a state-of-the-art pyramid structure that promotes citizen science by showcasing the interconnectedness of plants, humans and the environment. 
Denver's Burkett Design architecture firm designed a structure that will provide 3,800-square-foot of public display and engagement space. The building's foot print is 78 feet by 78 feet. Despite the modest size, the building's design maximizes useable space and provides a stunning architectural icon that will bring greater awareness to the plant-based world around us and highlight the important scientific work done at the Gardens. The Pyramid will house the OmniGlobe®, an interactive spherical simulation of the Earth from space, special exhibits and other interactive science-based displays. The Pyramid will also explore the Rocky Mountain Region's steppe climate and illustrate the common humanities in steppe regions around the world. Interactive media and technology will make it possible to virtually visit and discover similarities between the American West, Central Asia, Patagonia and South Africa.
The exterior will be covered in four-foot-wide, hexagon-shaped composite biomimicry panels (imagery and design based on nature) that resemble honeycombs. Electro-chromic glass will be used on the sides and small sections of the ceiling that transform from clear to 97 percent opaque in order to adjust to interior light needs. After sundown, the windows will lighten to showcase the interior. Yellow metal flowers will open at sunrise to provide cooling shade, and close at night.